Harvest Chrome Extension
The Harvest Chrome extension seamlessly integrates Harvest's time tracking abilities into project management tools like Basecamp, Trello, and Asana.
User Research & Planning
To start, a small team including a UX designer, two Ruby devs, and I interviewed customers to extrapolate why they wanted this intregration and how they'd like Harvest implemented into their work flow. This defined a baseline for our customers' expectations.
Planning
Accounting for all edge cases with to make sure our user permissions remained intact when using Harvest in a third party app was treaded through carefully. For example, a customer may want to use the extension on a project they don't have access to. Depending on if they were a project manager or a normal user, how would the Chrome extension react?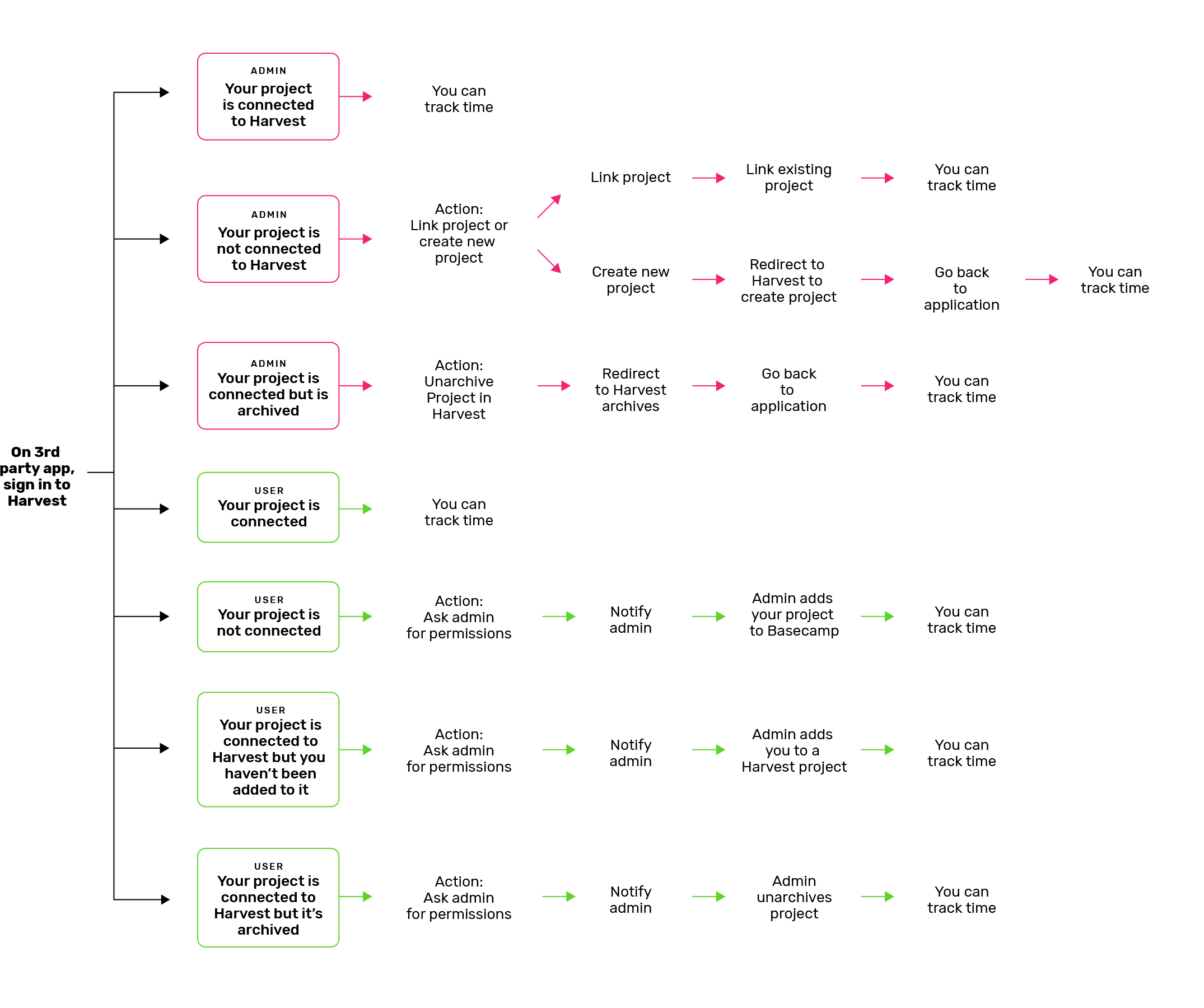 Case by Case Decisions
From our research, we were able to make informed decisions about how Harvest would work best within each project management tool. In Basecamp, timers were mapped to to-do items and in Trello, timers were mapped to each card.
Design
When designing the Chrome extension time tracker, most of the visual language was kept from the original one in the application. But because this would live on third party sites, tweaks were made to make the branding and interactions feel like a mini Harvest.
On top of the pop-over box, quick links to switching accounts editing your full timesheet were added. On the bottom, you'll see how much time you've already tracked to your current project. With these, we wanted customers to feel like they were getting the most out of Harvest even when they weren't directly using it.
Callbacks on Harvest
To help customers keep track of which application they used to track their time, they simply had to refer to their timesheets where an app icon and note will link back to your connected project.
Evolution
This idea later evolved into the Harvest Platform so users could natively implement time tracking to any application and even on this site. If you have a Harvest account, you can test the buttons below!
Click on a timer icon to start tracking time.